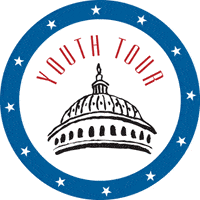 Calling all rising seniors within the Laurens Electric service area: It's time to begin preparing for the annual Washington Youth Tour. Every year, about 1,500 delegates from 39 states are sponsored by local electric cooperatives to attend a weeklong expense-paid trip to Washington, D.C.
Laurens Electric Cooperative will sponsor two high school juniors to attend the youth tour, explore the D.C. area, meet other participants, or delegates, from across the country, and learn more about and promote electric cooperatives.
hotstar live
To qualify, contestants must submit an application, complete with personal references. Finalists will be selected to appear for interviews by a committee of judges, and two winners will be announced following the interview process.
Aside from touring and promoting cooperatives, the winners, whom we call delegates, attend dances and river cruises, dine at culturally unique restaurants, and make new friends with whom many past delegates report they still keep in touch.
Washington Youth Tour takes place each June. Click here to download the application or complete the online application below. For more information about Youth Tour, contact your school's guidance counselor, or Laurie Riser at Laurens Electric Cooperative, at 1-800-942-3141.
Like Washington Youth Tour on Facebook