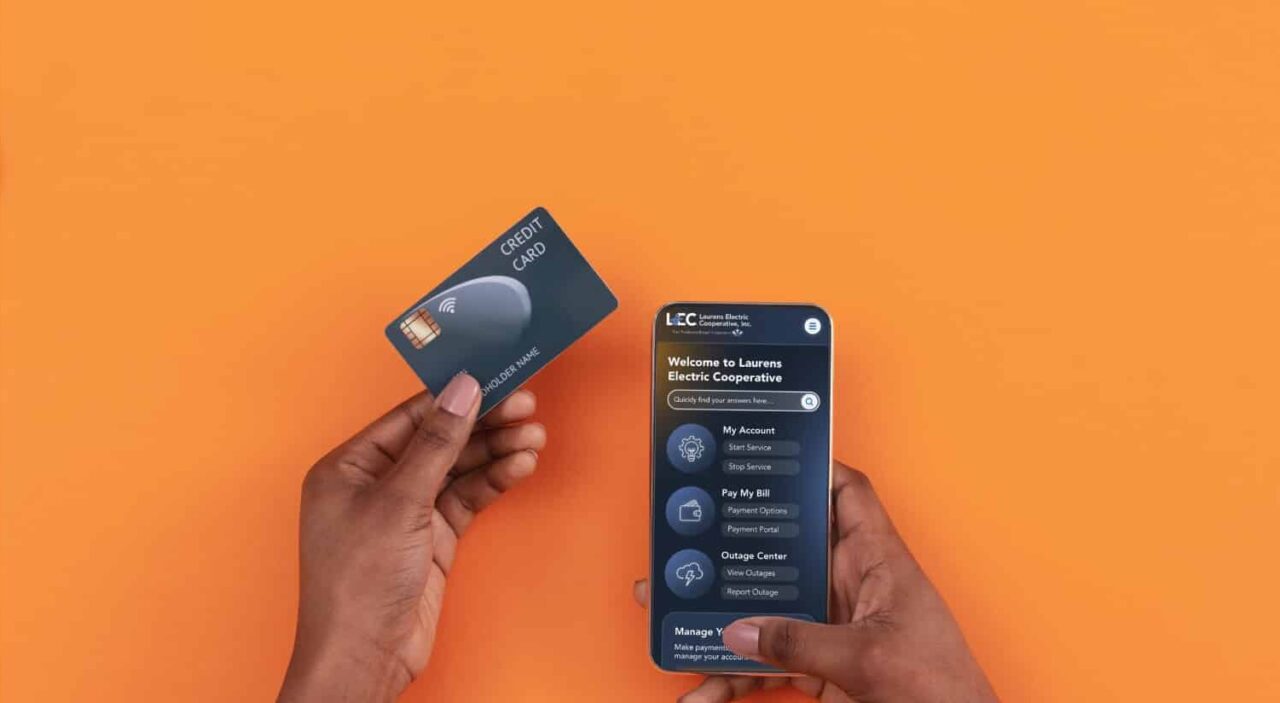 Billing & Payment Options
Payments can be mailed to
Laurens Electric Cooperative, PO Box 967, Laurens, SC 29360
Laurens Electric Cooperative offers its members E-Bill notification via the Internet.
In addition to saving on postage and other related billing costs, Laurens Electric Cooperative's E-Bill allows you to be proactive and help the environment by opting to receive the email notification only and do away with the paper bill. However, you can receive both email notification and a paper bill if you desire.
You will receive the email notification the instant your account bills. There is no waiting for the mail to pay your bill. The notification email will have the account number, the amount of the bill and the due date. It will also provide a link for you to pay and view your bill on our website if your account is registered.
Please complete the E-Bill Notification Form — we need a valid email address. It's that simple.
E-Bill notification is just another way Laurens Electric Cooperative strives to make service more convenient for you.
Let us take the worry out of paying your electric bill. SimplePay is not only the easiest way to pay, it's also the most convenient and it saves you from worrying about being late with your bill payment. With SimplePay, you have the security of knowing that your bill will always be paid on time. That's because the bank automatically pays it for you!
Attach a copy of a voided check. Bring it back to our office and let a customer service representative do the rest! Or, you can fax the copy to 864-683-5188 or scan and email to customercare@laurenselectric.com. That's all there is to it. Your bank will make your payments for you on time and on your due date each month you will still receive your bill that shows you when and for how much your account will be drafted.
Laurens Electric also offers Credit Card Draft, which works in much the same way. Contact customer service
for details.
If you have any questions about your bill, you'll have time to call before the payment due date. If you have any questions about this special service, call us at 1-800-942-3141.
We can help you guard against large fluctuations in your monthly electric bill without ever having to catch up at the end of the year.
The plan is called AveragePay and it is designed to keep your electric bill affordable every month of the year. AveragePay makes your electric bill predictable by using a rolling average of your present month's bill and eleven previous months' usage plus your current balance. Because of the rolling average, your monthly bill will change slightly every month but you will never have the large ups and downs that could cause you to get down and out.
With AveragePay, there's never any sign-up fee, nor is there a monthly service charge. Your bill will show you the number of Kilowatt hours you use each month, but you will pay for the average usage for the most recent 12 months.
You must have been a Laurens Electric member at least a year to apply for AveragePay. If you have any questions about this special service, call us at 1-800-942-3141.
The EasyPay program is a pay-as-you-go plan that allows you to pay when you want (weekly, bi-weekly, monthly) in the amount you want with no late charges, disconnect fees or reconnect fees.
EasyPay can help members who want to set their own payment schedule, budget, or monitor and manage their electricity consumption.
Set up your account with the balance you choose. Any existing security deposit may be credited to your current account balance. You will receive a low balance notice via email, automated calling service, or text message. This will give you time to purchase more power before the meter stops.
With EasyPay, you can:
If you have any questions about this special service, call us at 1-800-942-3141.
Meeting the needs of our members has always been a top priority. That's why we are always willing to be flexible to serve you better. One program that allows us to adjust to your needs is FlexPay.
It's designed for members who rely on Social Security or disability income. If you receive a check from one of these agencies and get your power bill before your money arrives, we can change the due date to fit your schedule.
We will read your meter during the regularly scheduled time each month but you will get your bill before the end of the month. This will give you extra time before your bill is due.
To qualify for FlexPay, you must fill out a simple form. If you have any questions about this special service, call us at 1-800-942-3141.