Watch the recording of the 2023 Annual Business Meeting
Annual meeting returns June 3
Registration and voting June 2, 3 only at LEC's main office
At Laurens Electric Cooperative, we have always put the good of our community first. While our primary function is to provide reliable and affordable energy to our members, we have always considered ourselves more than just an electricity provider. Because we are a co-op, our mission is to enrich the lives of our members and to serve the long-term interests of our community. Through reliability, service and sustainability, we're focusing on the needs of our members both now and in the future.
For us, sustainability means concentrating on programs, services and policies that increase distributed generation from renewable sources, promote demand-side energy management programs, and provide energy efficiency resources for members. This includes:
Renewable energy options such as our Solar Advisory and Installation program and Geothermal heating and cooling systems.
Energy efficiency resources such as our Energy Star rate, the Home Rewards program—which offers you rebates for making energy-efficient improvements to your home— and the LEC Connect app, through which members can manage and monitor energy use.
Demand-side management programs that encourage members to modify consumption of electricity, especially during peak energy demand timeframes and seasons. The PowerSaver Rewards and Smart Thermostat programs both offer members incentives for participation and help us reduce demand.
New this year is our Electric Vehicle Charger and Rebate Program. You can get a $600 rebate when you purchase a Level 2 electric vehicle charger from the co-op and agree to participate in load management efforts.


While all of these programs and new technologies are exciting and important, our core mission has not changed. Our focus will always be to meet the needs of our members. And through your participation in our Annual Meeting, you give us the opportunity to listen and fine-tune the programs and services we offer.
We look forward to seeing you at the Annual Meeting and to serving you every day.
PRESIDENT & CEO
J. David Wasson, Jr.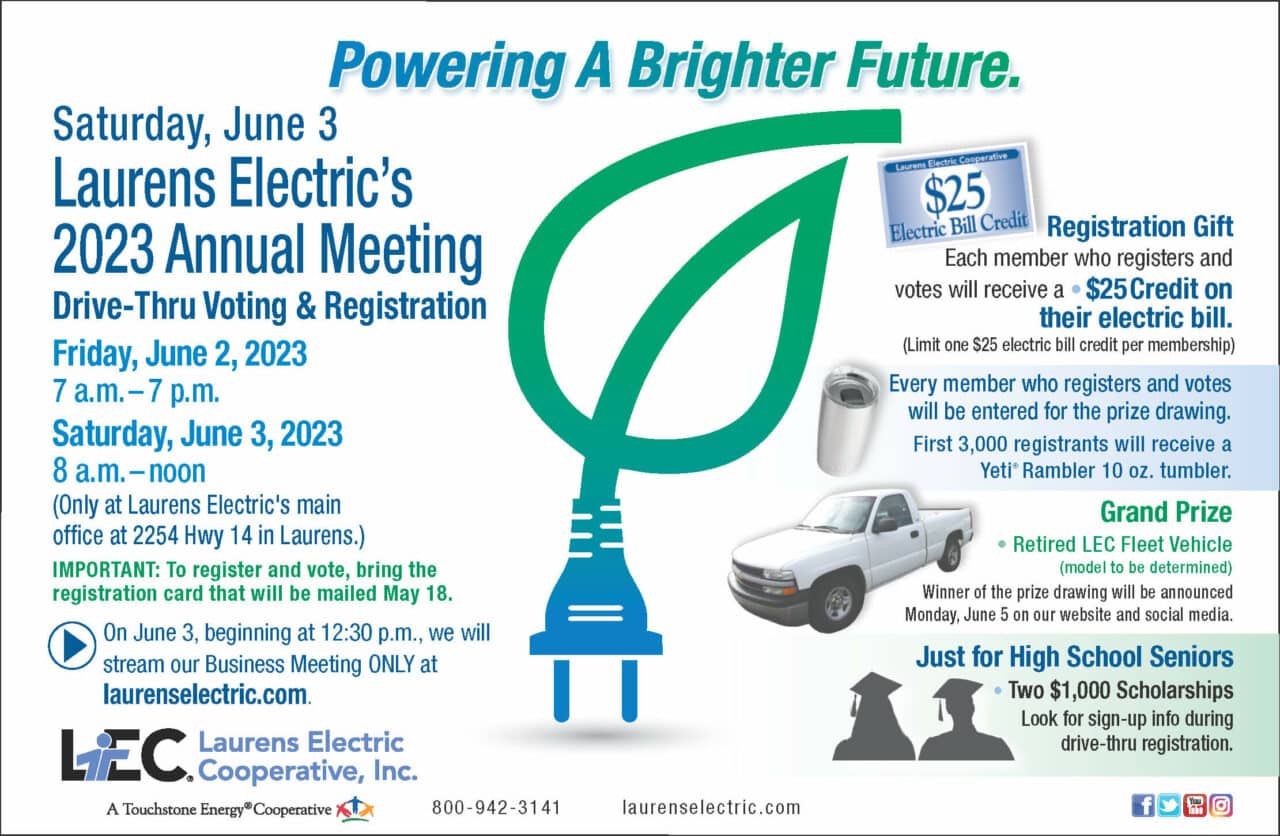 Laurens Electric Cooperative Annual Meeting
Only at Laurens Electric's Main Office
2254 Highway 14, Laurens
Drive-thru registration and voting
Friday, June 2
7 a.m.– 7 p.m.
Saturday, June 3
8 a.m.– noon
LEC employees will guide you to the registration lanes where you will present your registration card, receive a ballot and cast your vote.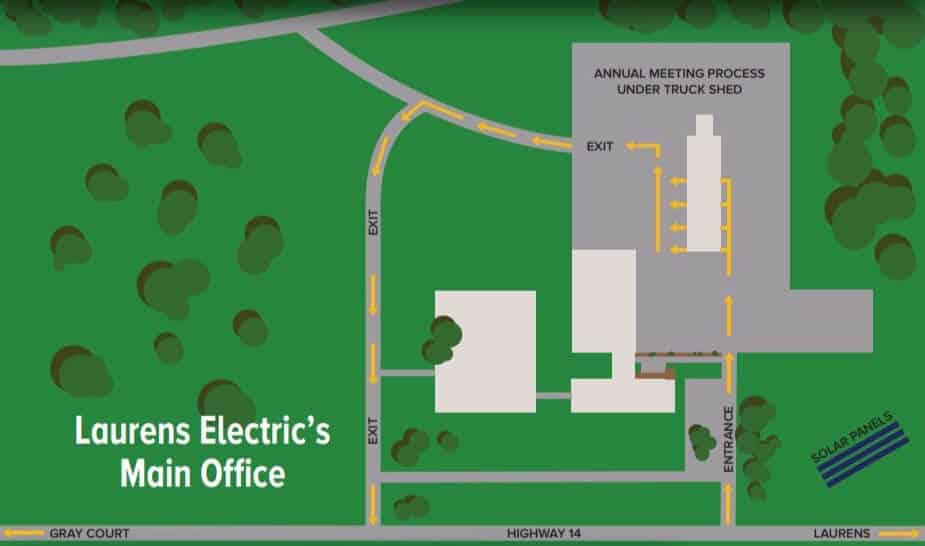 Virtual business meeting
On June 3 at 12:30 p.m. we will stream our Business Meeting only at laurenselectric.com.
Registration gift and prizes
Each member who registers and votes will receive a $25 credit on their electric bill and will be eligible to win a retired LEC fleet vehicle. The first 3,000 registrants will receive a Yeti Rambler 10 oz. tumbler. Winners for the drawing will be announced on our website and social media Monday, June 5.
Two $1,000 scholarships will be drawn for high school seniors. Instructions to apply available after voting in-person.
Important
To register and vote, bring the registration card that will be mailed May 18.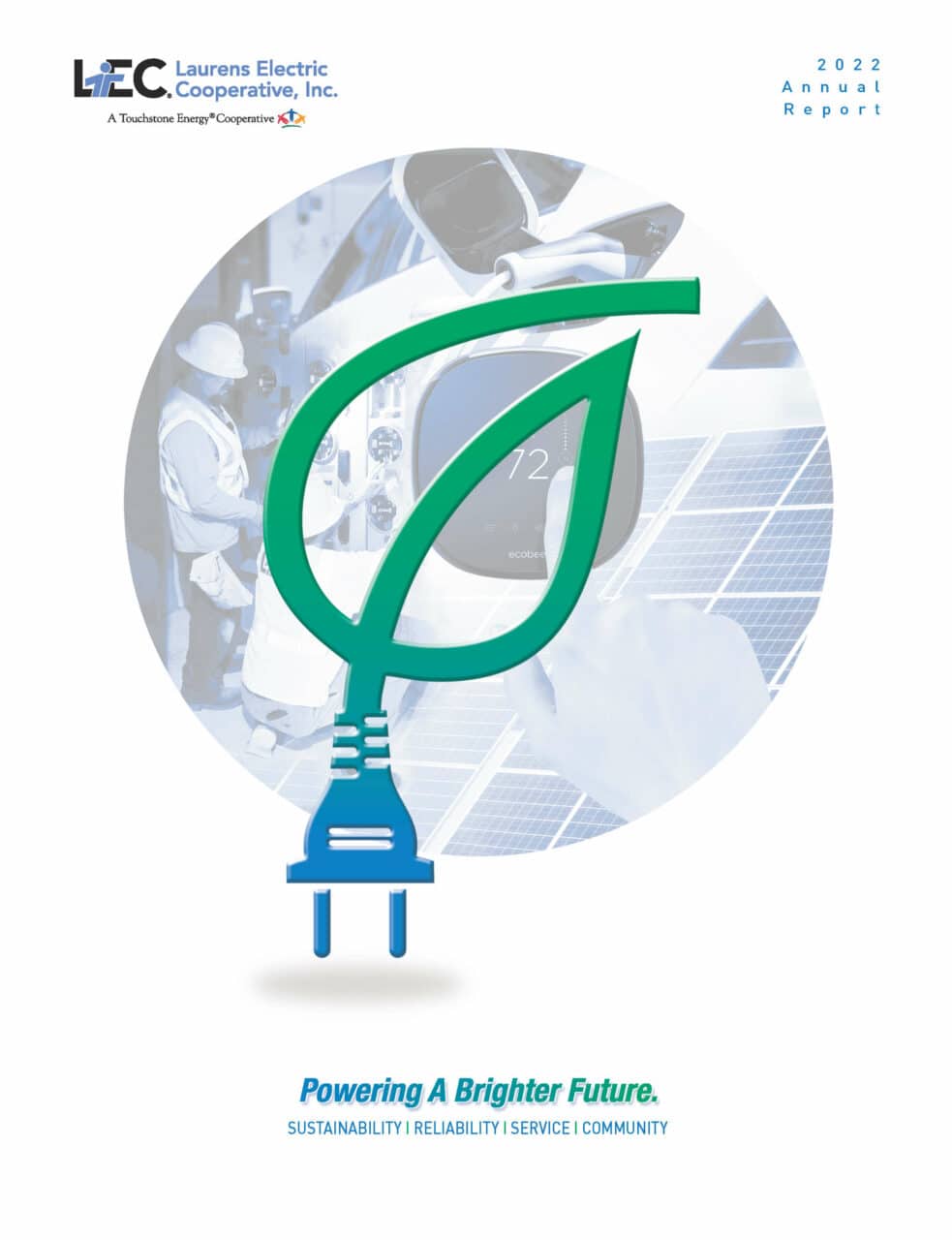 2023 Annual Meeting A Success
On June 2 and 3, 5,013 members took part in Laurens Electric Cooperative's drive-thru registration and voting for their board of directors.
Members elected Charles Adair to represent District 4; Marcus E. Cook to represent District 7; and Mitchell Powers to represent District 9.
Board Secretary/ Treasurer Mitchell Powers reported that the co-op's finances remain strong, which allowed the board last year to approve the return of more than $1.7 million to members in the form of capital credits.
The co-op continues to experience solid growth in our service area as one of the fastest growing electric co-ops in the state. This leads to stability for the future for the co-op, and the community.
The business meeting and prize winners can be viewed on this page.
Thanks to the members of Laurens Electric who helped make our 2023 Annual Meeting a success.
PRESIDENT & CEO
J. David Wasson, Jr.