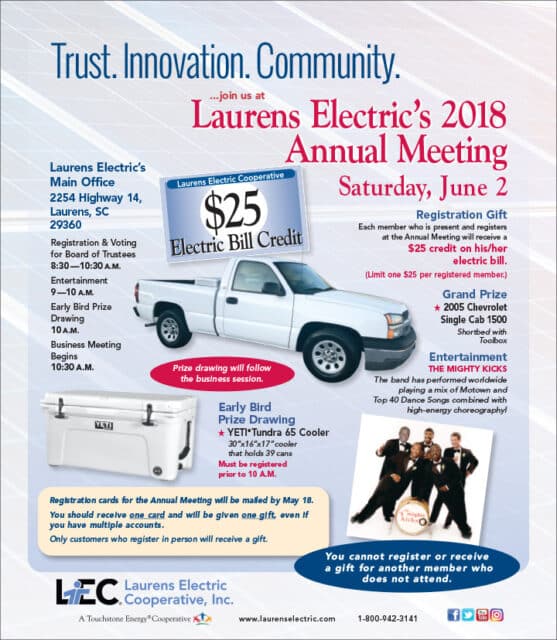 As a not-for-profit electric cooperative owned by the people we serve, every decision and action at Laurens Electric Cooperative is centered on the benefit to our members.
Bottom line, our primary goal is providing you with reliable, safe and affordable energy.
But our service to you goes beyond poles and power lines.  We are your friends and neighbors, so we care about the quality of your experience with Laurens Electric. All of us here live in the communities we serve, so we have a vested interest in the success of each one.
When we see you at our annual meeting June 2, we hope to bring home the fact that serving you, our members, is our number one priority.
In our 2017 Annual Report, included in the center of this issue, you can see some of the ways we've worked to earn your trust, utilized the latest innovations and endeavored for the betterment of our community in the past year.
For instance, Laurens Electric surpassed our previous achievements and industry averages in customer satisfaction last year. The American Customer Satisfaction Index (ACSI) is a method we use to listen to your comments, concerns and needs so that we can continue to provide the service you desire.
In 2017 we also continued to work with businesses, industrial leaders and economic development teams to bring growth and jobs to our area, capitalizing on the development of the Highway 101 corridor in Spartanburg County and partnering with other industry leaders to bring a new industrial park to Laurens County.
And speaking of growth, more of you than ever have expressed an interest in solar energy. In addition to completing the second Community Solar Farm in 2017, we also created a Solar Advisory and Installation program. Designed for members who are considering adding solar panels to their homes, with this program we can walk you through the process and help you understand the economics. We can even install the solar panels if you choose.
Electric cooperatives were created more than seven decades ago for one purpose – serving their members. I hope to see you at our Annual Meeting, June 2. We'll all be there, waiting to welcome you.
J. David Wasson Jr.
President and CEO
Laurens Electric Cooperative
Annual Report
[button]Download PDF[/button]