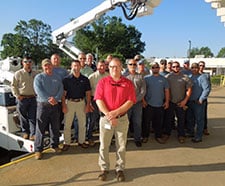 Laurens Electric Cooperative's April recipient of the employee Pay it Forward funds is Staking Technician Scott Fletcher.
Scott chose to pay forward $500 to a co-worker who, along with his wife, is suffering from medical problems that have rendered both unable to work.
"Here at the co-op we are a family and a team," said Scott. "When a team member is down, it's only natural instinct for the rest of us to help him back up."
Employees at Laurens Electric have organized various fundraisers to help their colleague and his family recently, from collecting monetary offers to holding hot dog plate sales.
"As a whole we have banded together to help this family during these tough times," said Scott. "I feel that paying forward $500 to help another team member is just a small way of saying 'your team is here for you.'"