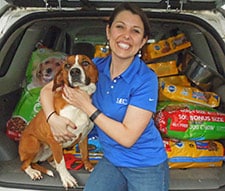 Laurens Electric Cooperative's March recipient of the employee Pay it Forward funds Customer Service Representative Sarah Craft. Sarah chose to pay forward $500 in supplies to the Laurens County Animal Control.
The Animal Control facility, located at 79 Mount Vernon Church Rd., typically takes in around 20 dogs a week and employs four dedicated workers.
Sarah provided dry and canned dog and puppy food, bowls, bones and cleaning supplies to the facility, which is often filled to capacity with stray and owner-surrendered dogs. Officers say they also need blankets and towels and water buckets.
"I wanted to give to animal control because I have always had a big heart for animals," said Sarah. "Hopefully by paying it forward to them it will help get the animals the care they need to find forever homes."
To volunteer or donate, contact Jamie Masters at 864-984-6812, and follow Laurens County Animal Control on Facebook at www.facebook.com/laurenssc.animalshelter/ to see photos of their adoptable dogs.