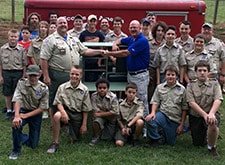 Laurens Electric Cooperative's June recipient of the employee Pay it Forward funds ProTec Services Installation Manager Randy Brady.
Randy paid forward $500 in supplies to Inman Mills Boy Scout Troop 26. The supplies will fill 2 patrol boxes for camping trips, and include such items as lanterns, camping stove, dishes, and other items to set up a camp.
According to Randy, the Troop held fundraisers to build the boxes themselves, and now they are working on filling them. Randy and his wife Tammy, who is a Troop Committee member, plan to fill one box with supplies themselves, and the Pay It Forward funds will fill two more.
With three sons in Boy Scouts (the eldest just achieved the rank of Eagle Scout), Randy says, "We need Scouts these days to help kids learn values and self-reliance; to teach them what it's like to be a kid and help them learn how to be a man."