September's recipient of the employee Pay it Forward funds, Field Technician Keith Burbage, paid forward $500 to Laurens County Cancer Association's annual 5k Walk/Run on September 22nd. The event, "Run like a Mann," is held in memory of Laurens resident Tim Mann.
"Tim and his wife Debra have been friends of ours for many years," said Keith. "Tim passed away in 2010 at the age of 53 after losing his battle with colon cancer. Every year since, the Laurens County Cancer Association – or LCCA – has held this event in his memory to raise money to assist the citizens of Laurens County who are battling cancer."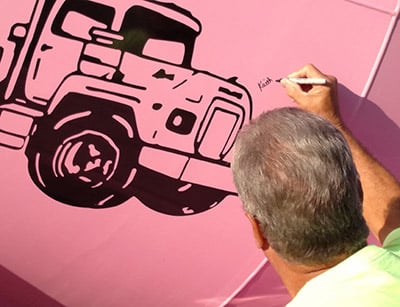 The Saturday event, which is the primary fundraiser for the LCCA, registered 120 walkers and runners, but included many others who showed up to listen to live music and show their support and cheer on participants.
"Laurens Electric Cooperative is one of our local businesses who care about their community and show it by supporting what our organization is doing to help the citizens of Laurens County," said Ann Casey, LCCA Executive Director.
Keith added, "I hope this donation will make a difference in someone's life who is battling this terrible disease."
For more information about Laurens County Cancer Association, visit hopeincommunity.com or call 864-833-3976.
Through Laurens Electric's Pay It Forward program, every Cooperative employee is entered into a random drawing to receive $500 to pay forward in any way they choose. Each month a new name is drawn, and the employee then has one month to apply the funds toward their own act of kindness.
This initiative is budget-neutral; the funds will come from Laurens Electric's charity events, which employee volunteers make possible.