Laurens Electric Cooperative's November recipient of the employee Pay it Forward funds is Billing Representative Amy Hughes.
Amy decided to do something different with the $500.
She explains, "When selected as the pay it forward employee this month, my mind went in a thousand directions. Everywhere you look there are people in need, and to them their cause is everything. I decided to pass the opportunity to my children and to challenge them to decide who they wanted to help. And I couldn't be more proud of their decisions."
Amy's family has been faced with challenges lately, as her mother, Lana, has been battling a very rapid-growing uterine cancer for two years with no remission.
With that in mind, Amy's 13 year old son Clay decided to buy supplies for the Laurens County Cancer Association, a non-profit organization serving Laurens County residents currently diagnosed with cancer.
The Association provides education, screenings and direct services, as well as nutritional supplements, mastectomy supplies, gas cards during chemotherapy or radiation travel, and financial assistance with cancer medication.
"My mother's battle with cancer has been the hardest thing that I have ever had to face. I understand the physical, mental, and emotional battle that it is every day, so my heart is overjoyed to think that we may offer a little hand in helping a fellow patient through the Laurens County Cancer Association," Amy said.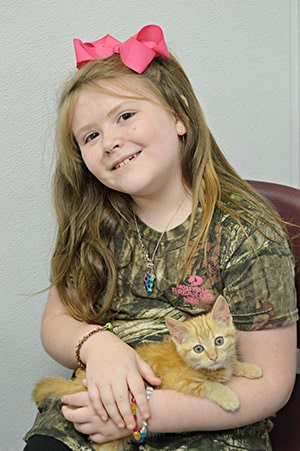 Similarly, the family's dog Bubba has had his own fight with cancer and is currently undergoing chemotherapy, so Amy's 8 year old daughter Haley decided to spend her half of the funds for the animals at the Laurens County Humane Society. The society is a non-profit, all volunteer-run organization that operates a no-kill adoption center in Clinton. In addition to adoptions, they facilitate a low-cost spay and neuter program for pets of Laurens County residents.
"Who could not love the opportunity to help an innocent, precious animal while they are in search of their forever home," asked Amy, after the family's visit with the dogs and cats at the Center.
Amy added, "These two causes – along with all of the ones acknowledged by fellow employees previously and in the future – hold a special place in someone's heart. We should each strive to teach our children the things that count the most in life, such as kindness, generosity, respect, politeness, love, courage, and concern for one another. Everyone you meet is fighting their own battle, and a little love and kindness can always make a difference in someone's day."
Find out how you can help by visiting the Cancer Association's web site at liveintheupstate.com/demonstration/ and the Humane Society's site at laurenshumane.org.