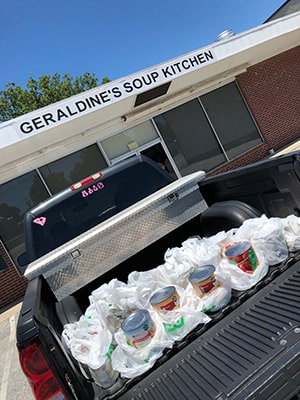 As President of LEC's chapter of Women in Rural Electrification (WIRE), May's recipient of the employee Pay It Forward funds Sherri Davenport is hyper-aware of the needs of people in her community.
WIRE is a community service organization affiliated with electric cooperatives in South Carolina. Laurens Electric's chapter of WIRE consists of co-op employees and members who champion various local charities and fundraisers.
Sherri, a Customer Service Representative, is well acquainted with the organizations and citizens who need help through her work with WIRE.
When her name was drawn for the $500 from the Pay IT Forward funds, she quickly zeroed in on 3 specific purposes for which the money would be best spent.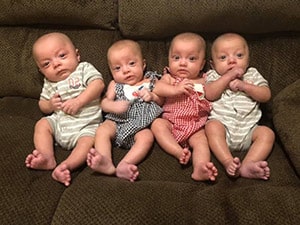 The first is the soup kitchen at The Open Door Christian Center in Clinton, renamed Geraldine's Kitchen after the passing of founder Geraldine Hastings.
Sherri said, "Geraldine's Soup Kitchen provides a tremendous service for people in Clinton who can't afford a meal."
In fact they serve an average of 50 meals a day. The kitchen, open Monday through Friday from 12-1 p.m., provided 3,139 meals in the first quarter of this year.
To donate or find out more, visit TheOpenDoorChristianCenter.com.
Sherri also designated funds toward the Hernandez family in Laurens. Dylan and Ashley Hernandez became the parents of quadruplets in January.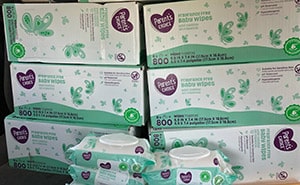 Sherri said, "The expenses for one baby are a lot – I can't fathom four. There was a diaper drive for them recently, so I thought it would be great to buy a lot of diaper wipes as well."
Sherri's final donation was to the family of 4 month old Haddon Norris in Laurens.
Diagnosed with stage 4 neuroblastoma, "Haddon and his parents Lee and Makayla have weighed heavy on my heart. He is currently undergoing chemo treatments and recent scans have shown his tumors are shrinking, but he needs continued prayers for healing and financial help for medical expenses," said Sherri.
To help, visit gofundme.com/haddon-strong.
To find out more about WIRE's mission in the community, email sherrid@laurenselectric.com.
The Pay It Forward program, begun in 2015, was born out of a desire to continue the good work of the 75 Acts of Kindness community initiative.
Every Laurens Electric Cooperative employee is entered into a random drawing to receive $500 to pay forward in any way they choose. Each month a new name is drawn, and the employee then has one month to apply the funds toward their own act of kindness.
This initiative is budget-neutral; the funds will come from Laurens Electric's charity events, which employee volunteers make possible.
Employees and the community will enable individual employees to help individuals in the community, and that's a win-win situation.