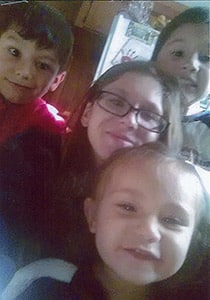 May's recipient of the employee Pay it Forward funds, Locator Dan McKinney, paid forward $500 to the family of Joy Albright, a single mother who was killed in a car accident May 5.
Dan said "Joy leaves behind three children, ages 3, 5, and 7 years. She was on her way to work when tragedy struck, and she had no time to make plans for her children."
According to the family, Albright was an amazing, kind-hearted person who was taken away from her children far too early, adding that the funds will help ensure that the children, Brayan, Emilio and Bella will be taken care of.
Dan also said "I decided the best way for me to use the Pay It Forward funds was to help these children. They're going to need help in so many ways for a very long time. Laurens Electric does so many good things for people in need and I'm proud to be a part of the Co-op."
Through Laurens Electric's Pay It Forward program, every Cooperative employee is entered into a random drawing to receive $500 to pay forward in any way they choose. Each month a new name is drawn, and the employee then has one month to apply the funds toward their own act of kindness.
This initiative is budget-neutral; the funds will come from Laurens Electric's charity events, which employee volunteers make possible.