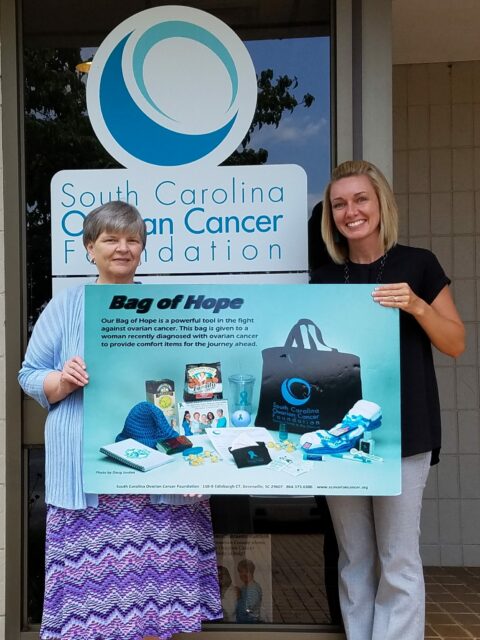 July's recipient of the employee Pay it Forward funds, Budget Analyst Melissa Bryan, paid forward $500 to the South Carolina Ovarian Cancer Foundation.
Melissa, herself a survivor, said "the organization provides support to patients as they are dealing with the anxiety and uncertainty of an ovarian cancer diagnoses.  On my first day in the chemo room, a volunteer came to bring me a 'Bag of Hope' and offer support and information about the organization.  This helped to calm some of the anxiety that comes with chemotherapy treatment."
The Foundation also provides assistance for those who may be struggling financially due to the inability to work during treatment by providing gift cards that can be used to purchase gas for the multiple trips to the Cancer Center for treatment, or other essentials such as medications and food.
Executive Director Stephanie Henkin said "Patient support is an important part of our mission statement. Our patient support fund is used for patients currently in treatment… and it also provides financial assistance when needed."
Melissa added "I would encourage any woman who has continued symptoms to talk to their physician.  If you feel that something isn't right, and are not getting treatment that resolves the issue, request an ultrasound.  By catching the cancer you have a much higher chance of a positive treatment outcome."
"With this contribution I hope to pay forward the support that I received, and help other women that are fighting this brutal disease."
Visit the Foundation's web site at http://www.scovariancancer.org/ to learn more about symptoms of ovarian cancer, find resources, or to donate.
Through Laurens Electric's Pay It Forward program, every Cooperative employee is entered into a random drawing to receive $500 to pay forward in any way they choose. Each month a new name is drawn, and the employee then has one month to apply the funds toward their own act of kindness.
This initiative is budget-neutral; the funds will come from Laurens Electric's charity events, which employee volunteers make possible.