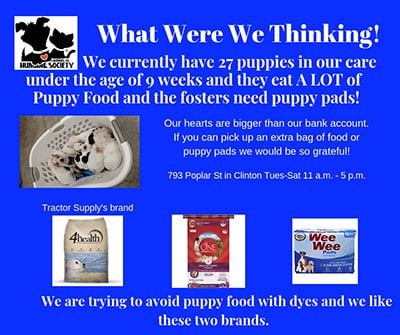 Dennis Fox, a Security Consultant for ProTec Services (a division of LEC), paid forward $500 to the Laurens County Humane Society as part of Laurens Electric's employee Pay It Forward program.
Dennis said, "It was hard to make a choice because there are so many worthy causes. However, I hate seeing innocent animals suffer so I decided to give them a little help."
In fact, Dennis's mind was made up when he heard about a litter of puppies dumped at the Humane Society's adoption center in Clinton.
According to the organization's Director, Jill Mechling "Our security footage shows a man in a black SUV dumping 4 ice cold, soaking wet, newborn puppies on our porch in 30 degree weather on a day that we were closed. Thank goodness an employee leaving from her kennel cleaning shift saw the abandoned puppies and brought them in to warm them up."
Sadly one of the puppies was almost completely frozen and died that night. The other puppies survived, but their medical requirements, combined with an influx of other puppies, has left the Humane Society in urgent need.
Jill added, "We love what we do and we want to save every animal out there, but in reality, we cannot do that without major financial support from the community to get us through times like these. It is so important to have support from area businesses and we thank Laurens Electric and Dennis Fox for paying it forward!"
Laurens County Humane Society is a small, privately run 501c3 non-profit No-Kill Adoption Center supported entirely by public donations – they are not affiliated with The Humane Society USA or any other local or national groups and receive no government funding.
Donations to the Laurens County Humane Society can be made via their web site, www.laurenshumane.org, through their Facebook profile at Facebook.com/LaurensHumaneSociety, or by mail at PO Box 1600
Clinton, SC 29325.
For volunteer opportunities, contact the organization at laurenshumane@gmail.com or (864) 833-9060.
To drop off items from the Humane Society's wish list or to adopt a new family member, visit the adoption center at 793 Poplar Street in Clinton Tuesday-Saturday from 11:00 am-5:00 pm.
Through Laurens Electric's Pay It Forward program, every Cooperative employee is entered into a random drawing to receive $500 to pay forward in any way they choose. Each month a new name is drawn, and the employee then has one month to apply the funds toward their own act of kindness.
This initiative is budget-neutral; the funds will come from Laurens Electric's charity events, which employee volunteers make possible.