When Field Service Technician Kim Greene was selected in February as Laurens Electric's employee Pay It Forward recipient, she chose to spread the love around the community.
First, she chose to pay forward $150 to St. Jude Children's Research Hospital. Kim already donates to St. Jude's monthly and said, "My heart goes out to these families and children and I know this will help."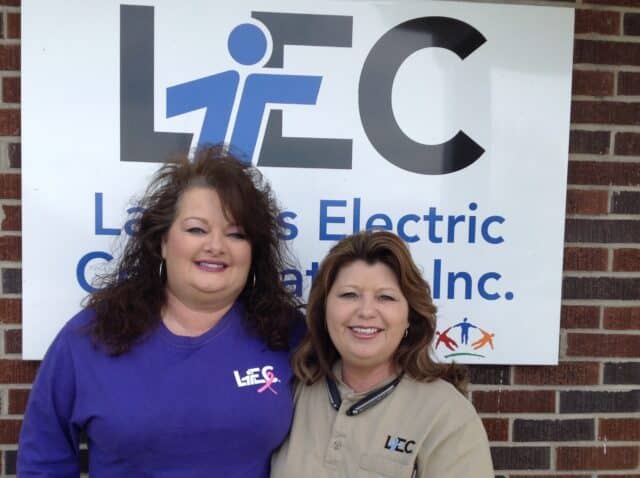 Next she chose to donate $150 to Laurens Electric's chapter of Women Involved in Rural Electrification, or WIRE. This South Carolina cooperative-based community service organization consists of co-op employees and members who champion various local charities and fundraisers.
Kim said, "I've seen this group of women make such a huge difference in so many ways. They reach out to the community's elderly, children and other vulnerable individuals. They do all this work from donations and funds earned at their bake sale at LEC's annual meetings. This will help them reach more people."
Finally, Kim earmarked the final $200 to a single mother named Brittany who she met on her meter service route. Brittany has a five year old son named Alex, and her baby, Maggie Grace was born prematurely, weighing in at only 3 pounds, 11 ounces.
Kim already had a backseat full of supplies she'd purchased on her own to gift to the small family, and said, "I'd like to send out a big thank you to my co-worker Donna Robertson for contributing an infant car seat and diapers, and to Stephanie Williams at Smith Chevrolet for the baby swing, walker and play mat."
She added, "This young lady was so grateful and it really was heartwarming to know that in some way we helped make a difference."
Kim sees the needs of many in the community while driving her route.
"It gives me a great pleasure helping in some way. Thank you so much to my Laurens Electric family for this opportunity. It's all about people helping people."
To find out more or donate to St. Jude Children's Research Hospital, visit stjude.org.
To get involved or help support WIRE's mission in the community, email sherrid@laurenselectric.com, and make sure to stop by and purchase some baked goods at the co-op's annual meeting June 1.
The Pay It Forward program, begun in 2015, was born out of a desire to continue the good work of the 75 Acts of Kindness community initiative.
Every Laurens Electric Cooperative employee is entered into a random drawing to receive $500 to pay forward in any way they choose. Each month a new name is drawn, and the employee then has one month to apply the funds toward their own act of kindness.
This initiative is budget-neutral; the funds will come from Laurens Electric's charity events, which employee volunteers make possible.
Employees and the community will enable individual employees to help individuals in the community, and that's a win-win situation.