IT Help Desk technician Michael Tucker paid forward $500 to Hospice of Laurens County in honor of his mother, aunt, and grandmother.
Mike's mother passed away on November 29, 2019 after a long 6-year battle with Alzheimer's. He said "The Hospice nurses were at the funeral and would even come by the house a few days later and check in on the family. We are thankful to Hospice for being there."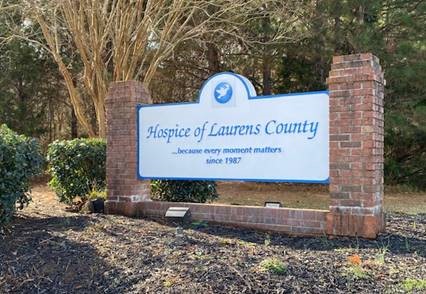 Hospice of Laurens County, the first hospice to open in Laurens, was established in May 1987 by a group of volunteers. The not-for-profit organization offers comfort care through a team approach including physicians, nurses, social workers, home health aides, volunteers, and chaplains. On-call nursing is available 24 hours a day, seven days a week, and provides care regardless of the patient's ability to pay for services.
Mike said, "When the time came in our loved ones' lives when the family couldn't provide round-the-clock medical attention and care, Hospice was there. Not only did they come in and provide help with medical needs, but they became like family to us during these trying times. They were there to give us support in so many ways: to listen to the many stories of our loved ones, to be a shoulder to cry on or to give a hug, or just simply be there. It takes a special person to fill their shoes."
Katie Bagwell, Hospice's Manager of Volunteer Services and Community Engagement, said gifts like Mike's will support programs such as charity care, Jaime's Tree House children's bereavement camp, and staff training.
She added, "Thank you for supporting our hospice mission to provide physical, spiritual, and emotional comfort to patients and their families dealing with a terminal illness."
Hospice of Laurens County welcomes volunteers for their Flight of The Dove cycling fundraiser and other events. To find out more about volunteer opportunities, visit hospiceoflaurenscounty.org or contactbagwellk@hpccr.org.
Donations can be made at hospiceoflaurenscounty.org or mailed to PO Box 178, Clinton, SC 29325.
Laurens Electric's Pay It Forward program, begun in 2015, was born out of a desire to continue the good work of the 75 Acts of Kindness community initiative.
Every Laurens Electric Cooperative employee is entered into a random drawing to receive $500 to pay forward in any way they choose. Each month a new name is drawn, and the employee then has one month to apply the funds toward their own act of kindness.
This initiative is budget-neutral; the funds come from Laurens Electric's charity events, which employee volunteers make possible.