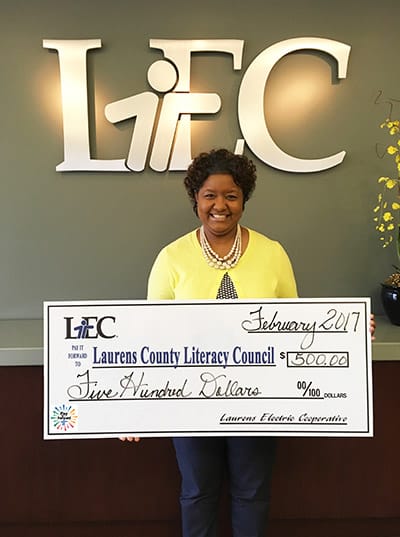 Laurens Electric Cooperative's February recipient of the employee Pay it Forward funds is Customer Service Representative Dometry Dawkins.
Dometry paid forward $500 to the Laurens County Literacy Council. An all-volunteer organization, the Literacy Council's mission is to provide educational programs for the Laurens County residents and families that will enable them to better function as productive and responsible citizens.
Dometry said, "Reading affords you the opportunity to travel anywhere, to explore and broaden your horizons."
According to the Literacy Council, South Carolina ranks 39s in literacy. ln Laurens County, the illiteracy rate is 18%.
"We are working laboriously to lower this number," said council secretary Madge Byrd.
"Our students are striving daily to improve their reading and math skills. Our goal is for each student to make at least one academic gain during the year. The gains are based on students testing every 40 hours. We are proud to report that 1/3 of the students have made at least one academic gain in reading and /or math," Byrd added.
"Being able to read allows a person to educate him- or herself and be well informed. I feel that it's a basic right everyone should have," said Dometry.
Tax-deductible donations can be made to the Laurens County Literacy Council at 221 W. Laurens Street, Laurens SC 29360.