LEC Payroll Administrator Marie Bishop paid forward $500 in toys, books, movies and other supplies to the pediatric intensive care unit (PICU) at Prisma Health–Upstate (formerly Greenville Memorial) hospital.
She was inspired to help when her 13 year old niece Addison became critically ill in February of 2019 and was admitted to the PICU.
Marie said, "I never realized how terrifying a situation like this could be, not only for the patient, but for their family as well."
Addison made a full recovery.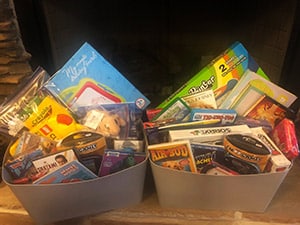 "The doctors, nurses, therapists, and entire staff were awesome and took very good care of her. With their medical knowledge and treatments and with the grace of God they saved her life," said Marie.
Part of that staff includes Kristen Capps, Child Life Specialist serving children and families in the pediatric intensive care unit (PICU).
Capps described her role at the hospital as "helping children understand why they are sick, providing them with opportunities to play and grow – despite hospitalization – and providing overall emotional support to the whole family."
Marie understands the need for such support.
"The hospital environment can be very stressful for a child, not to mention some of the treatments and procedures they have to endure.  I hope the items we have donated will help alleviate some pain or stress and put a smile on the children's faces, making them feel loved and special," she said.
Some of the items will be used as prizes for children who are having painful procedures, some will be used as giveaways or birthday gifts, and some will be used repeatedly for children who are admitted in PICU.
Marie, who donated the supplies with her niece Addison in tow, said, "We will be forever grateful to the staff for their dedication and commitment to Addison. The PICU/Children's Hospital will always have a very special place in our hearts."
If you would like to help brighten a sick child's stay in the hospital, contact Kristen Capps at Kristen.Capps@prismahealth.org or 864-455-0021.
Below is a list of items that are needed:
Care packages
Soft tissues
Hand sanitizer-scented kind
Note book and pen
Gift cards (Starbucks, gas station cards, Dunkin Donuts, Wendy's, K-Mart, Target)
Chapstick
Gum or mints
Soft pillow case
Socks
Eye mask covers
Makeup remover wipes
Toothbrush and tooth paste
Deodorant
Dry shampoo
Travel sized shampoo and conditioner
Hand lotion
K-cups coffee
Travel soap or body wash
Adult coloring books
Colored pencils
Cross word puzzles
(It is helpful to have the above items already packaged either in a type of tote bag or gallon sized zip lock bag.)
Other items:
New DVDs, (recent movies, PG 13 rated), English and Spanish
Spanish books (for all ages)
Card games (Uno, regular playing cards)
Ear buds
Neck pillows
Fun pillow cases (character themed)
Sudoku books
Teen appropriate chapter books
Over the door miniature basketball sets
Journals for kids and teens
The Pay It Forward program, begun in 2015, was born out of a desire to continue the good work of the 75 Acts of Kindness community initiative.
Every Laurens Electric Cooperative employee is entered into a random drawing to receive $500 to pay forward in any way they choose. Each month a new name is drawn, and the employee then has one month to apply the funds toward their own act of kindness.
This initiative is budget-neutral; the funds will come from Laurens Electric's charity events, which employee volunteers make possible.
Employees and the community will enable individual employees to help individuals in the community, and that's a win-win situation.