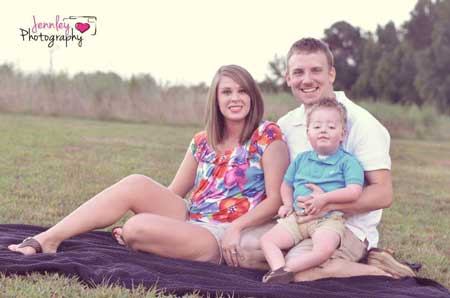 Laurens Electric Cooperative's August recipient of the employee Pay it Forward funds is Apprentice Lineman Bryan Painter.
Bryan chose to give $500 to the Henson family of Inman.
Jaxon Tanner Henson was born December 9, 2013, 2 months premature and was diagnosed with an extremely rare genetic disorder called Myotubular Myopathy. Only 1 in 50,000 people are born with it, and it's most common in males. XLMTM primarily affects the skeletal muscles causing weakness and hypotonia. Jaxon breathes with the help of a ventilator, feeds through a feeding tube, and attends physical therapy occupational therapy and speech therapy.
"I wanted to donate to them because that could be my child," said Bryan. "I know they have a lot of financial needs with doctor visits and specialist as well. I just wanted to try and ease some of the bills they may have, and also to get his story out there and maybe more people can help this remarkable little boy."
You can follow Jaxon's fight at www.facebook.com/jaxonsfight or help with his medical costs at the family's GoFundMe page, http://www.gofundme.com/d0252c.
The Pay It Forward program, begun in 2015, was born out of a desire to continue the good work of the 75 Acts of Kindness community initiative.
Every Laurens Electric Cooperative employee is entered into a random drawing to receive $500 to pay forward in any way they choose. Each month a new name is drawn, and the employee then has one month to apply the funds toward their own act of kindness.
This initiative is budget-neutral; the funds will come from Laurens Electric's charity events, which employee volunteers make possible.
Employees and the community will enable individual employees to help individuals in the community, and that's a win-win situation.