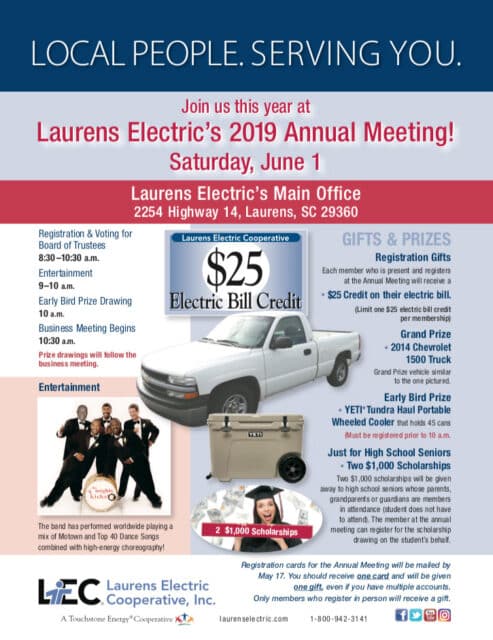 2941 make meeting a success
THANKS to the 2,941 Laurens Electric members who attended our annual meeting June 1. They made it a truly beautiful Saturday morning.
If you couldn't be there, allow me to recap the highlights:
Special honors: Chairman Charles Adair and I both remembered the late Leroy Blakely, who represented District 3 for decades, as well as Lewis Harrison, who retired from the board last year. They ably served fellow members for more than 80 years combined. We're blessed with the dedicated directors we have today as well as our employees, who have in their heart a commitment to providing you the best service possible. They are a special group.
Election: In the board election, members elected Jim Perry to represent District 3 and re-elected Joe Nicholson in District 1 and Bill Hendrix in District 2. Congratulations to each of them!
Strong finances: Board Secretary/ Treasurer Mitchell Powers reported that our co-op's finances remain strong. This allowed your board last year to approve the return of more than $1 million to members in the form of capital credits.
We continue to see solid growth in our service area. We're one of the fastest growing electric co-ops in the state. This is good for our future and a reminder how blessed we are to be in the Piedmont—the best part of South Carolina.
Santee Cooper: We continue to look out for you as state lawmakers weigh the future of the state-owned utility Santee Cooper. Electric co-ops are the largest customer of Santee Cooper, part owner of the V.C. Summer nuclear plant in Fairfield County. In the aftermath of the failed expansion project there, we continue to push for the best outcome for you, the members.
You are our friends. You are our neighbors. We care about you. We always make you our first priority.
J. David Wasson Jr.
President and CEO
Laurens Electric Cooperative
Annual Report
[button]Download PDF[/button]

Thanks again to all who attended the meeting! If you couldn't be there, we hope to see you in 2020, if not sooner.