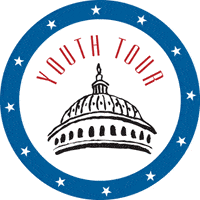 An expense-paid week in Washington, D.C. will be awarded to two students by Laurens Electric Cooperative, according to Jim Donahoo, the co-op's Director of Marketing.
The annual Washington Youth Tour contest includes submitting an application and participating in an interview process. After co-op officials judge the entrants, two students will be awarded the trip, which begins June 10, said Donahoo. Students within the cooperative's service area who are entering their senior year in high school next fall are eligible to enter the contest. Students do not have to receive power from Laurens Electric Cooperative to qualify. The deadline for submitting applications will be February 10, 2017.
As participants in the youth tour, local contest winners will travel with more than 40 other South Carolina students to Washington where they will meet with their state representatives and senators, visit many historical sites, learn about cooperatives and spend time with other students from across the country.
Contest winners also will be eligible to compete for a $5,000 college scholarship that will be awarded to one South Carolina tour participant. The scholarship will be granted based on a community service project completed by the student.
Approximately 1,500 youth tour participants from 39 states will meet in Washington, D.C. for the Washington Youth Tour, which has been conducted for more than 40 years.
For more information on Youth Tour, or to get an application…
[button align="text-left" type="primary" size="normal"]More Information[/button]
contact Laurie Riser at laurier@laurenselectric.com or 1-800-942-3141.
Laurens Electric Cooperative serves 54,000 member-owners in Laurens, Greenville, Spartanburg, Anderson, Newberry, Union, and Abbeville counties. Since 1939, the co-op has been dedicated to being the provider of choice for energy and related services in the Upstate.