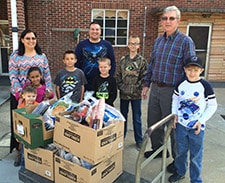 Laurens Electric Cooperative's November recipient of the employee Pay it Forward funds – Staking Technician Keith Mason – paid forward $500 in food and supplies to Tabernacle Children's Home in Greenville, which houses orphaned children whose parents have died, children left from a broken home situation, as well as children from dysfunctional families.
The Home is affiliated with Tabernacle Baptist Church and depends on individual and church donations and volunteers. "That's how they make it," said Keith.
According to Keith there are currently 20 or so children in residence, from toddlers to high school age. "This is the only home these kids know," he said.
"My wife Debbie and I have seen first-hand the work the Home does with these children. In the past the kids have come and participated in church events, and we've seen good outcomes as the program helps them through high school and beyond."
According to Keith, the Home receives donations and many of those are "staple foods, which is practical but these kids don't get to eat meat or treats as often," he said. Which is why, during the Thanksgiving holiday, he made sure his donation was packed with $500 worth of goods to make the occasion memorable.
To find out more or to help, visit the Tabernacle Children's Home web site at www.tbc.sc/home.