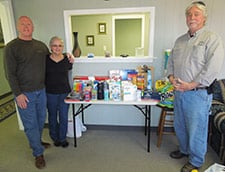 Laurens Electric Cooperative's February recipient of the employee Pay it Forward funds is Technical Services technician Johnny Langston.
Johnny chose to pay forward $500 in supplies to the Set Free To Be Ministries in Laurens.
There you go! Presently you can simply open the application and play the pokemesh for android rendition diversion effortlessly and get those Pokemon. Sadly, Pokemesh Download for IOS is not accessible starting at yet in the market but rather they are chipping away at it. In any case, on the off chance that you are an Android client don't hold up, get your Apk document downloaded now.
Founded by Pastor Wayne Jones and his wife Sarah, the non-profit, non-denominational ministry includes four community outreach programs: L.I.F.E. (Living It Free Everyday) Community, Prison Ministry, R.C. (Reality Check) Ministry and Re-Entry House.
Set Free To Be has a special focus on people with addiction, behavioral and relationship issues. "We try especially to reach out to the families of these people, and educate them about enabling and co-dependency," said Jones. "I've given seminars at the YMCA and City Hall, and I'd like to start talking to churches to teach them how to reach out to people with these needs."
Johnny Langston is a member of the First Assembly of God church in Laurens, which allows the ministry to use a home on its property as a re-entry (transitional) home for people being released from addiction rehabilitation or prison. "I wanted to help a local cause and I've seen the impact of this ministry first-hand," Johnny said.
Jones replied, "Our community is full of people ready to go to work. We try to find out what their passion is and plug them into a position to help."
To find out more about contributing or volunteering, call 864-517-2443, and find them on Facebook at www.facebook.com/setfreetobe/.