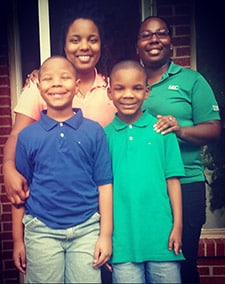 Laurens Electric Cooperative's July recipient of the employee Pay it Forward funds is Customer Service Representative Jamesia Downs.
Jamesia paid forward $500 to single mother Loukevia Rowland. In addition to undergoing two brain surgeries this year for Pseudotumor Cerebri – also known as Idiopathic Intracranial Hypertension – Ms. Rowland's two sons both suffer from numerous medical problems of their own.
Trenton, age 9, has Amniotic Band Syndrome, ADD and Cyclic Vomiting Syndrome.
Tryon, age 7, was born with a rare immune deficiency for which he receives an infusion for every 28 days to help him fight off germs and colds. He also has (CAPS) Cryopyrin-Associated Fever Syndrome, which is similar to arthritis but also causes sores, unexplained high fevers, fatigue and extreme swelling.
"I chose this family because she is a single mother who keeps pushing in spite of what she and her children are going through," said Jamesia. "When I'm feeling down or having a bad day, her updates motivate me and make me realize that no matter what is going on I must keep on fighting – not only for me but for my son."