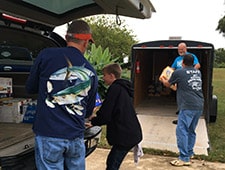 Laurens Electric Cooperative's October recipient of the employee Pay it Forward funds is Crew Supervisor James Harlan.
James paid forward $500 in food supplies to Upstate Backpack Blessings, a volunteer-based, donation-driven organization that provides bags of food to nearly 200 students each week in local elementary, middle and high schools.
According to www.upstatebackpackblessings.org, over 34,000 students in Greenville County Public Schools rely on free or reduced breakfasts and lunches while in school Monday through Friday. Students served by Upstate Backpack Blessings count on their weekend bags that they pick up on Friday afternoons as the leave school for the weekend, a critical time when they do not have access to school meals and often go without or have very little food.
Alice Prevatt, the founder of Upstate Backpack Blessings, started the program in 2009 when she worked in a local middle school cafeteria.
"Can you even imagine having free or reduced price lunch at school on Friday…then going home and having no dinner that night, no breakfast, lunch or dinner on Saturday OR Sunday, and then returning to school on Monday morning…expected to be ready to learn? That is when you might begin to understand hunger, said Prevatt."
James coordinated his donation with an annual barbeque event in his neighborhood in Fountain Inn.  Stanley and Kay Smith have hosted the October affair for 28 years, and have been using the event as a food drive for Upstate Backpack Blessings for the past four years. Anyone can attend – in recent years attendance has reached over 500 people – and receive a plate of barbeque in exchange for a donation of non-perishable food to be given to the program.
"This is a good cause," said James. There are children in our community with nothing to eat, and with the ties to this event in my neighborhood, these funds could double the amount of food we are able to give to the program."
Prevatt says volunteers are always needed, especially drivers. Anyone interested can contact her at 864-414-4579, and visit www.upstatebackpackblessings.org to make a donation or get information on hosting your own food drive.