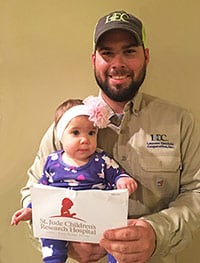 Laurens Electric Cooperative's January recipient of the employee Pay it Forward funds is Apprentice Lineman Chris Leonhardt.
Chris chose to donate the entire $500 to St. Jude Children's Research Hospital, the only National Cancer Institute-designated Comprehensive Cancer Center devoted solely to children.
"I have a soft spot for children, and St. Jude's has a good reputation for helping kids," Chris said.
"These funds can help a sick child get the medical treatment he or she needs," he added. Thinking of his own 8 month old daughter, Chris added, "These kids should have their whole lives ahead of them, and I want them to have a future."