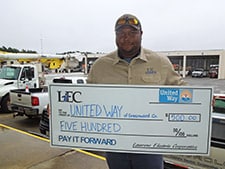 Laurens Electric Cooperative's September recipient of the employee Pay it Forward funds is Lineman Calvin Butler.
Calvin paid forward $500 to the United Way of Greenwood and Abbeville Counties.
"They help a lot of people," said Calvin, "and there are a lot of families in need. I've heard first-hand about a lot of the good the United Way does in the community and with the holidays coming I know people need help more than ever. Plus, the timing is right with Laurens Electric's own employee campaign coming up to raise funds for the United Way."
Denise Manley, President and CEO of the United Way of Greenwood and Abbeville Counties said, "Because of Mr. Butler and Laurens Electrics giving spirit, we will be able to further our educational initiatives with young children and our efforts in creating a culture of education attainment and success with our youth. Pay it Forward is a wonderful employee engagement effort that provides a means for the company and the employee to give back to their community."
In 1945, the Greenwood County Community Chest was established to help fund agencies such as the Salvation Army and Tuberculosis Association. As major textile industries and other businesses grew and prospered over the years and began to fund the health and human services organizations the Community Chest officially became United Way of Greenwood in 1970 and the partnership with Abbeville County began in 1992.
The United Way of Greenwood and Abbeville Counties is a non-profit organization whose mission is to advance the common good by creating opportunities for a better life for all in our community. Their focuses are Education, Income and Health; the building blocks needed to improve everyone's quality of life. They achieve their goals by recruiting individuals and organizations from all across the community who bring the passion, expertise, and resources needed to get things done.
Get involved by visiting http://unitedwaygac.galaxydigital.com/ or find your community's United Way at https://www.unitedway.org/ find-your-united-way.